WellFound Media, for me, started as an idea that I wanted to be able to have around for years to come, and down the road, to be able to do some really big and awesome things with the brand. I was recently looking at my website and logo and wondered if it was the best, most future-proof, execution for the foundation of the ideas that I wanted to look into realizing down the road. In addition to future proofing, I wanted to be able to have my own personal website to be running on the same platform that I develop for clients. Being that my old site was primarily created in HTML/CSS, I wanted to give a firsthand example to potential clients of the product that I am giving to them.
That's what you see this new website for.
This website utilizes WordPress, my website-building platform of choice. Why WordPress? I've talked about this before, but it allows us to more easily and confidently do things that were not previously as easy or feasible with HTML-based websites. A perfect example of this is the blog you're reading right now. Instead of having to keep a copy of a template on your hard drive, copying it over, writing out your blog post, adding it into the site files, linking it up with the rest of the site, and making sure it's SEO friendly, all I have to do is login to my WP dashboard and click "+ New > Post".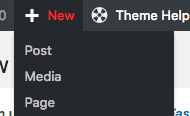 See, that's the thing about WordPress. It's simple, easy, and intitive for even the basic user. I love showing clients how it works and how to do things in the dashboard.
Speaking of blogs, I really wanted a place to talk about subjects, and help others in their experience with web design and websites in general. So, expect to see more posts from me about all sorts of topics. I might even write some guides on WordPress and website hosting.
I love what I do, and I'm glad God has allowed me to do it. I can't say that I have a ton of clients at the moment, but that's just fine for me! If you are reading this, and you think you want to hire me to do your website project, though, you can get in touch with me here. I'd love to see what we can do!
Cheers!
Matthew Jungling
Owner – WellFound Media
Header image by Fabian Grohs from Unsplash